More about Scalp Provoco and scalp micropigmentation
Ravi is a fully qualified and highly experienced Scalp Micropigmentation artist. He has trained extensively with an internationally recognised practitioner and has established a thriving practice on the world-famous Harley Street in the heart of London. See our new clinic location.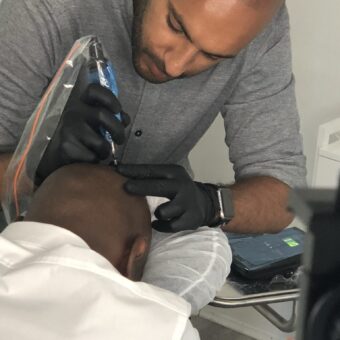 "I take a lot of pride in my ability to help people achieve the appearance they really want. In order to do that consistently and professionally, I take great care in all my work. Luckily, I love what I do and I'm also a complete perfectionist, so I enjoy the attention to detail. I understand how important your appearance is, and how much trust I need to be worthy of to do what I do."
Ravi Sabharwal
Before he began working on clients, Ravi undertook rigorous training in all aspects of the preparation and application of SMP. Men and women of all ages have since benefitted from his professional approach and skilful touch and continue to do so today.
Ravi provides an exclusive, personalised service for every client. He carefully explores the needs of all his clients and crafts a technique, which will preserve and even enhance their natural appearance by minimising or eliminating the appearance of baldness, scarring, or any other condition, which interrupts your desired hair pattern.