SMP Hairline Styles For Men
Position Shape & Design
If you have decided SMP might be for you the next thing your probably thinking is the style and area of the scalp to cover. If your not sure what SMP is, learn more about scalp micro-pigmentation in another article on our head 2 head blog.
A new shaven style hairline will give you a new, sharper, younger look but there are factors to consider when choosing the style; physical attributes such as hair colour, skin type, age, and personality. The cost of the treatment is related to the area to be covered.
Choosing the correct style is important. You should be comfortable with it in everyday life. This is a long lasting solution to a receding hairline even though SMP can be removed with laser treatment. Most clients ultimate goal is to create a look that boosts their confidence, self esteem and winds back the years. So many people get it wrong, so do your research and find an experienced professional.
Hairline Design Considerations
Most people that come to Scalp Provoco want a natural realistic style. Predominately men who want to reverse the aged balding look and bring the hairline forward to hide areas of the scalp where hair has receded. Creating a perfect deception that's its real hair and convincing enough that your new look is never questioned. The position, shape and design of the frontal hairline is the most significant factor for achieving a realistic look.
Contrary to this the new SMP technique can be used to produce a strong more prominent hair edge for people looking to make a "statement".
Although your going to discuss and agree on a particular style with your technician. SMP is completed in stages on different days, so your hairline will actually evolve.
Hairline Position Shape & Design
For a realistic hair SMP, it's a good idea to look back at your original hairline at different stages. Use this as a starting style and maybe make some minor tweaks. So dig out old photos of yourself both front on and side. For a style change you can look at Instagram or Pinterest for photos of SMP work. Copying a prominent celebrity or model should be very carefully considered.
Hairline position is how far forward or low to make the start of the new looking hair. The hairline shape is the curvature of the line. The hairline design is the way the edge is formed either with a more defined edge or lighter "graded in" effect so there appears to be no defined edge. Stay away from straight hairlines if you want to remain inconspicuous.
Over 40's
Men who are 40 plus might want to opt for SMP in moderation with a higher or receded position with widows peaks inline with the age.
Hairline Design Styles
Without getting bogged down in technical terms here are some SMP styles: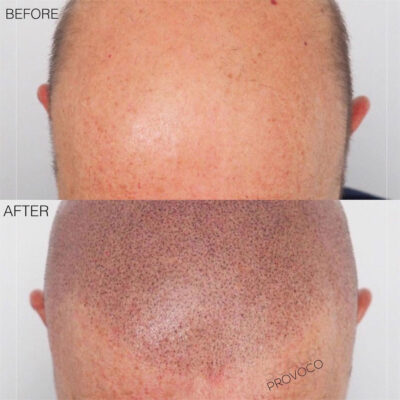 SMP style: broken hairline
Broken Hairline (Jagged Hairline)
Broken hairlines are popular because this style has the most resemblance to a natural hair pattern. The process involves scattering random pigment deposits below your actual hairline. This stimulates the natural distributions of real hair. A jagged hairline style progresses the technique by creating even more of a wonky line moving further away from the straight line.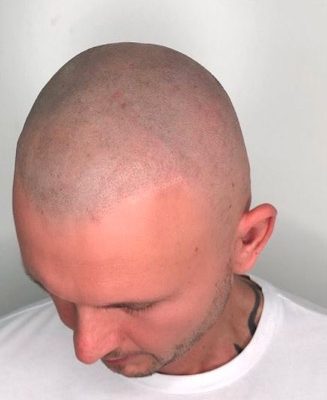 SMP style men: lightweight
Lightweight Hairline (Feathered/Faded/Gradient Hairline)
This style is applied with a light touch. The process involves using gentler shades of pigment and building up with less density , works with lighter coloured hair. The boundary is much harder to make out and results in a more realistic finish.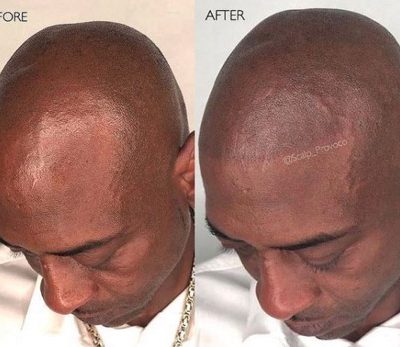 Edge-Up Hairline (Hard Line)
The edge up style is popular for men and works well with darker skin. The process doesn't involve further blending from the intended hairline position. Pigments aren't too scattered. It follows the natural flow of the hairline.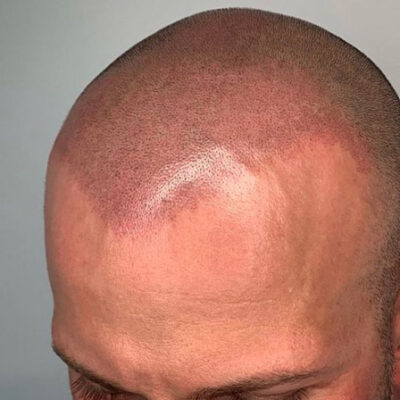 SMP mens style: peaked hairline
Peaked Hairline (V-Shape)
The peaked SMP style has a  v-shape hairline. This style recreates a widow's peak which is common with age related hairloss making the treatment more realistic for older guys.  The technique blends the pigmented area into any existing hair.
Scalp Provoco
We believe a good 2 way consultation is vital. Ravi has produced a complete range of SMP styles in different people and has the experience to guide you to a natural appearance or the right stronger style.
"I take a lot of pride in my ability to help people achieve the appearance they really want… I understand how important your appearance is, and how much trust I need to be worthy of to do what I do."

Ravi Sabharwal