Hair Transplant Scar Camouflage
Hair transplants require 3-4 sessions and it usually takes several months for each transplant to fully heal. These sessions leave you with scars in some areas of your head and it's part of the process. 
Yes, there are different types of treatment to cover those scars but Scalp Micropigmentation (SMP) is one of the best options for short or shaven hair.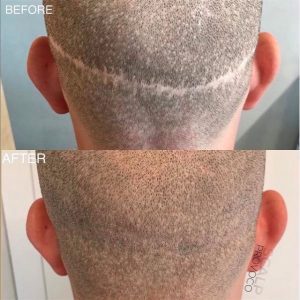 Using SMP to Conceal Hair Transplant Scars
The treatment involves replicating hair follicles inside and outside the scar to cover areas where there are gaps in the hair. It's a procedure similar to microblading which creates enhanced eyebrows.
Proper blending and concealment are applied to the scar using a specially designed device similar to the ones used for tattoos. The pigment is not driven as deeply, its deposited near the surface of the skin. SMP is less painful than a real tattoo and other invasive operations like hair transplants. 
SMP is usually carried out in 3 stages, the time spent at the clinic visits depends on the area to cover. However the visual effect is immediate and you will see the difference even after 1 session.
Who will Benefit from SMP?
Scars on the scalp and other small imperfections always have slower hair growth. SMP treatment is beneficial for people experiencing all forms of hair loss: 

Cancer

Alopecia

Thinning Hair

Male and female pattern baldness

Burns

Surgery
Procedure Guidelines
Yes, SMP has been proven to be effective but there are some things you need to keep in mind to get the best results for your scalp & how the procedure works.
The whole treatment takes 3 sessions and they're scheduled a few weeks apart.

It's best to take a shower first before the treatment. You won't be able to wash your scalp for 4 days after each session. 

In the weeks between the treatment, avoid exposing your scalp to direct sunlight. If you need to go out, wear a hat. Less exposure gives you better long-term results.

Make sure you're with the most credible SMP practitioner.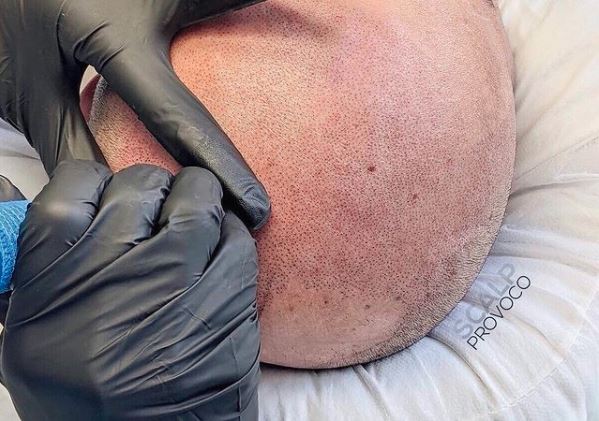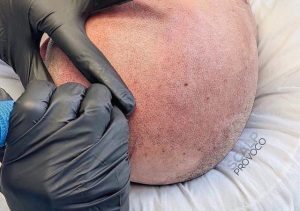 Finding the Right SMP Practitioner
At Scalp Provoco, we help you get the natural look you want in concealing your scar as you undergo your hair transplant sessions. 
Enjoy long-lasting results using the latest SMP equipment and techniques. We personalise each service to you, matching hair colour, your eyes and skin tone. For the safest professional treatment contact Scalp Provoco at Harley St. London.
Free Consultation
Get in touch today for a free consultation with Ravi our dedicated SMP Artist. You can only book via Scalp Provoco (or Sian Dellar). We are not associated with any another business at the Harley Street clinic.