SMP Treatment for Women Experiencing Hair Loss & Thinning
Thicker Fuller Hair
Scalp Micropigmentation (SMP) makes hair look thicker and fuller. It's a treatment that disguises thinning, receding or patchy hair. It can help restore your confidence and give the look of a full head of hair where your scalp can be seen through hair. SMP is virtually maintenance free, has long-lasting results and is safe.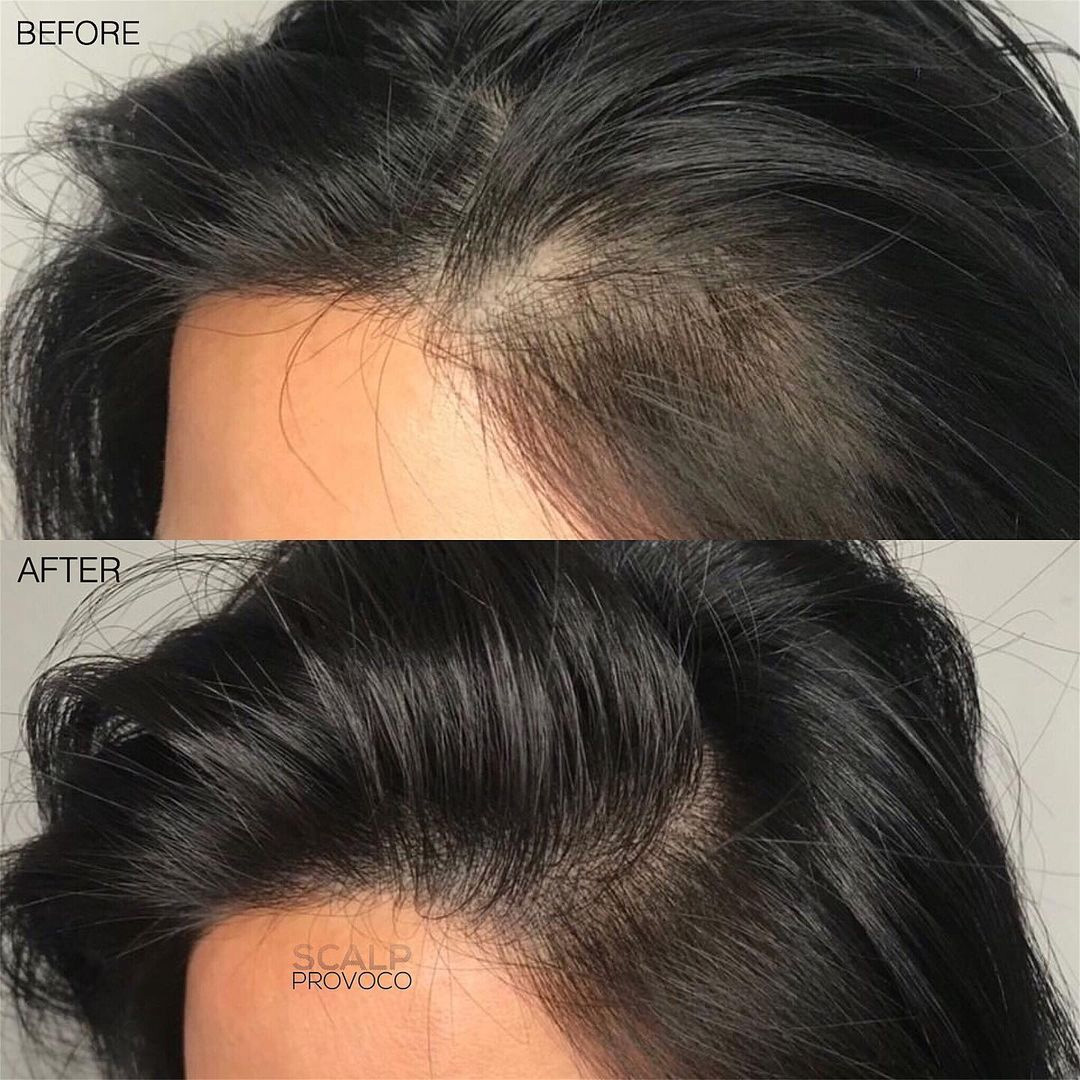 SMP for women – example of restoring beautiful hair
Ideal for Women
SMP treatment is ideal for women who already have long hair. A women's hair is very important and losing it can be a traumatic experience, its a good option to consider for women with low hair density or ladies suffering from Alopecia.
SMP is a solution for:
hair thinning
low hair density
undergoing a hair transplant
Alopecia hair loss
Female Pattern Hair Loss (FPH)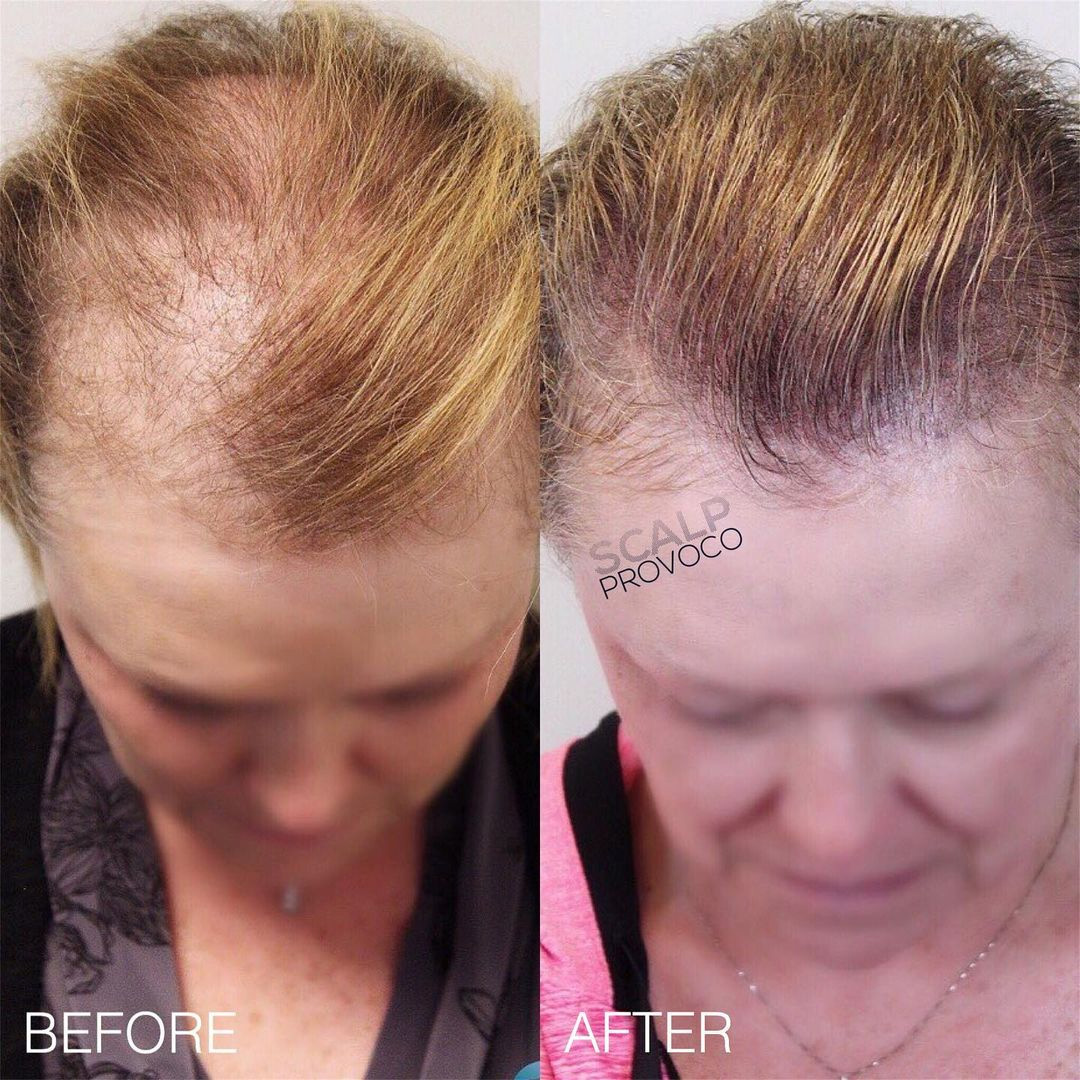 SMP for women – example of hair loss treatment
How does it work?
SMP is not a cure. This treatment adds tiny dots of pigment to the upper most skin layer of the scalp. It camouflages the areas with less hair. The pigment is added in a similar way as a tattoo but is not anywhere near as painful.
The treatment involves replicating hair follicles with different shades to cover areas where there are gaps in the hair. It's a procedure similar to microblading for enhanced eyebrows.
Common Hairloss Expressions
Widow's peak
This type of hairline comes in a V-shape. It can be quite distinctive for some people. There are also famous celebrities with widow's peak like Marilyn Monroe and Brooke Shields.
SMP treatment can disguise a receding widow's peak and return the shape to a more natural hairline.
Hair thinning
Hair thinning refers to the early stages of hair loss. The hair strand starts to lose its usual thickness. Over time your scalp can be seen through the hair. To negate this look, a perfect shade of pigment can be selected to match the depth of hair.
Female Pattern Hair Loss (FPH)
FPH is a distinctive form of hair loss that women experience. You'll see a small vertical cut at the top of the head during the first stages of FPH. Then the vertical cut gets wider through time, and the baldness starts to become more visible.
FPH by the age of 50 affects about 50% of men and 25% of women. SMP treatment helps camouflage the exposed areas of the scalp.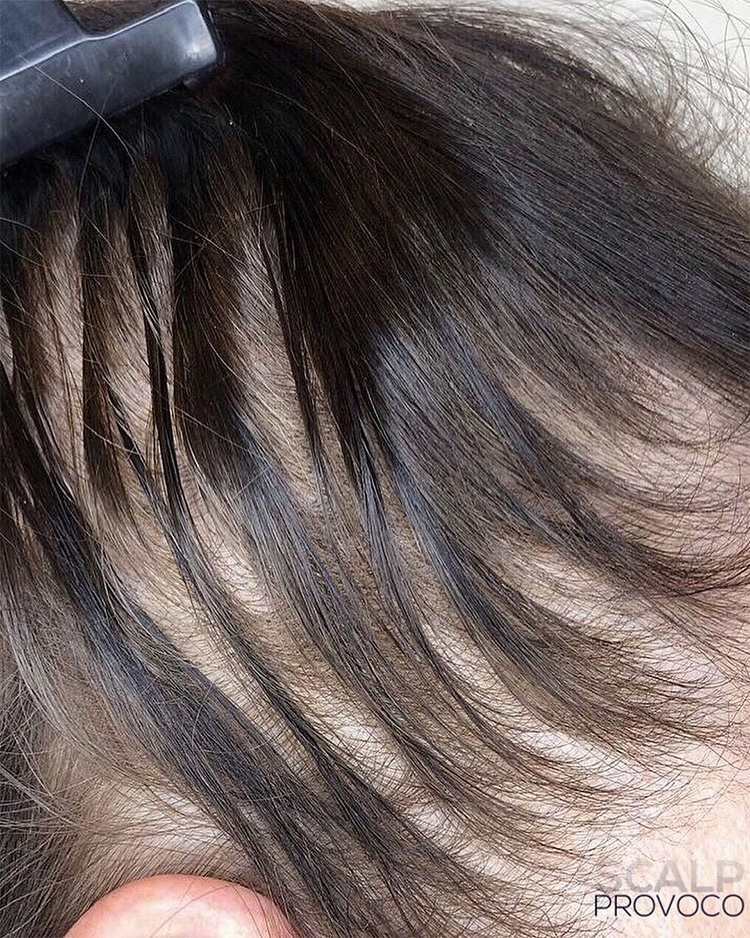 hair thinning – before SMP treatment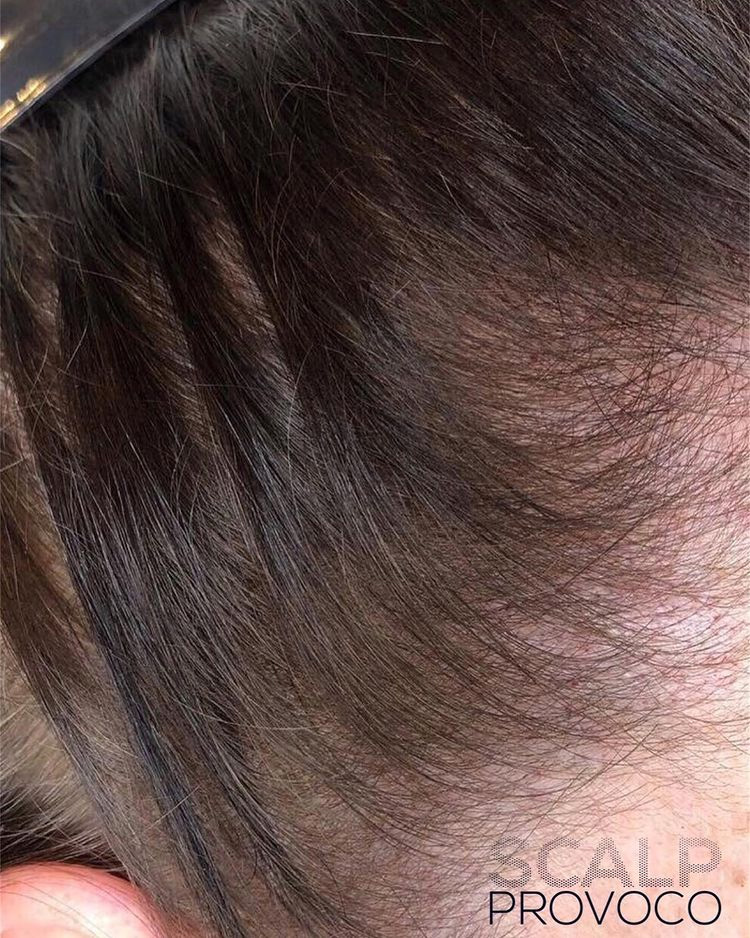 hair thinning – after SMP treatment
Causes of Hair Loss
There are a number of causes of Hair Loss, one of them being the natural aging process. Here are some common causes of permanent and temporary hair loss:
Hereditary
An illness
Cancer treatment
Stress
Weight loss
Iron deficiency
SMP at Harley Street, London
Scalp Provoco shares a clinic with the famed microblading practioner Sian Dellar. Ravi is a dedicated SMP artist who works with women and men to deliver unique, bespoke, designer service in an elegant boutique environment. Ravi provides a free consulation either in the clinic or via email. The cost depends on the area to be covered. Just prepare some photos and get in touch.
Further Reading
NHS Hairloss
The National Health Website give key facts about hairloss.
Get Ahead of Hairloss
An event run by Dr Sharon Wong who invites a panel of hairloss professionals to share their expertise.
https://www.getaheadofhairloss.com/
Wikipedia page – pattern hair loss
The web page is quite scientific but it covers the common medical treatments, causes and misconceptions of hairloss
https://en.wikipedia.org/wiki/Pattern_hair_loss
This article is produced by Scalp Provoco a clinic based at Harley Street London. The article has been researched from trusted medical sources but may not be wholly impartial. If you have concerns about hair loss or thinning you should visit your GP.